Black comedy, the twilight zone and a splattering of horror...
CUT DOWN
ON SALE NOW!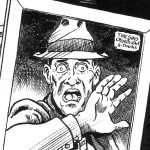 To purchase CUT DOWN... $5 per copy plus p&p (multiple copies discounted).
Digital version (PDF): $2 for individuals,
$10 for schools (unlimited use).
Contact me via email from the Contact Page on this website, with your name and mailing address.
I will reply with purchase details including postage and packaging costs. Payment is via PayPal or by direct electronic financial bank transference (EFT) - whichever you prefer.