Cartoons of Australian Federation
on CD-ROM
Covering 6 months of news and current affairs
surrounding Federation Day, January 1, 1901,
from October 1900 to March 1901.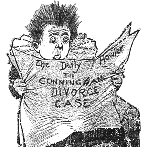 * Over 250 illustrations on CD-ROM.
* Original cartoon text enhanced for improved on-screen viewing.
* Includes background and explanatory text.
Topics covered by the cartoons include:
* Aborigines, Race, White Australia, Immigration
* The Jimmy Governor Aboriginal Bushranger Gang
* Federation Celebrations
* Colonial, State & Federal Politics
* Boer War in South Africa
* News Media (incl David Syme and The Age)
* 1900 Melbourne Cup
* Women's Suffrage
* Royalty & the British Empire
* Coningham Divorce Trial (Test Cricketer vs Catholic Priest)
* Life on Mars?
* Interstate Rivalry
* Free Trade vs Tariff Protection
and more...
And check out these sample cartoons: