About...
... freelance writing, this website, & sundries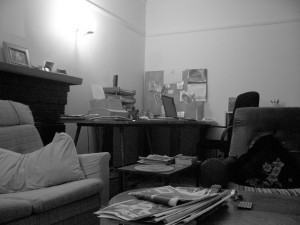 Latest
8 December 2015: There will not be any Text Talk articles published in the Education section of The Age in 2016. For more, see the 'Text Talk' page on this website, under Education on the menu.
1 November 2015: A magazine of illustrated short stories and a comic strip tale, which I put together in late 2009, titled, Popular Stories Illustrated, has been uploaded to the Archives section. Click/tap "Archived" on the menu to view the mag.
You will find information and updates on the continuing development of Cut Down, the comic book, in its own section under this Site News menu selection. Final pencil drawings are complete, and it is currently being inked.
The website and me
My name is Roger Stitson, and RMS Education is my website.
Originally the site was set up many years ago to display info about my freelance education writing and personal project work, such as the Text Talks, film study guides, and the CD-ROM of Federation-era news cartoons that are featured here (all accessed from the menu).
However, soon the site grew like Topsy as I added material which, at least on the surface, had nothing to do with classroom education but which I thought might be interesting at least to a niche audience, or simply to display some of my other interests and foibles.
This current site is a renovated and reorganised version of that unplanned, higgledy-piggledy (sp, Oxford dictionary) outdated and neglected version - and the name of the website hasn't changed;  it may be misleading, but I am staying with 'Education' - perhaps in the broadest sense that anything goes.
A potted bio from Back Then to Now
* 1964:  Failed Year 12 high school, Yallourn, Victoria.  Early 1965, interviewed for a job at Monash University as a laboratory and field technician in Zoology Department - had dreams of photographing animals in the wild.  Not accepted. Shunted across to Medical Faculty on the same day, for a different laboratory job. Accepted.  A week later, went down to Melbourne again, and began work.
* 1965-1970:  Employed at Monash University Medical Faculty as a horribly unqualified Medical Laboratory Technician.  Career reached a climax when I realised I was more interested in reading books about film directors such as Hitchcock, Ford and Hawks than studying Histology and preparing microscope slides.  Things quickly coalesced after I flooded the laboratory by forgetting to turn off the water distiller before going home at night - twice in three weeks.
* Some time during 1970:  Resigned (not sacked) from Medical Laboratory Technician job to complete secondary education.
* 1972-1976:  Full time tertiary student - Bachelor of Arts and Diploma of Education.
* Began secondary teaching in 1977.  While teaching, did Bachelor of Education in Literature and Film;  followed up with a Master of Education in Literature and Film. Eventually went to part-time as a teacher, to continue writing short fiction and non-fiction.  Some fiction and items on film, literature and comic books were published in various magazines, newspapers and journals. During the 1990s I completed interrelated courses in Magazine Production, Magazine Editing and Sub-editing, and Magazine Desktop Publishing, and later did a short course in Visual Basic computer programming.
* Took extended leave from secondary school teaching in 1999 to pursue writing 'career', then eventually resigned. Continued with casual emergency and sessional teaching while writing until about 2002-2003.  Did newspaper indexing of book and film reviews, researched and edited the Electric Chronicle and put together the CD of Federation Cartoons and the Vintage Australian Comics CD (see menu). Began writing study guides and Text Talks around 2004-2005. Also worked on online education projects for Film Australia and later Screen Australia.
* 2015:  Continuing freelance writing for the education market:  mainly film and literature study guides and essay-style articles (see 'Education' on the menu).  Slowly writing short film scripts between paid commissioned jobs, and developing the script for one of them ('Cut Down') into a comic book, in collaboration with illustrator Dave Dye (see menu).